Short backups for start of I-90 construction closures
on July 21, 2014 @ 5:43 am
(Updated: 6:42 pm - 7/21/14 )
Current traffic cams
Bellevue Way SE & I-90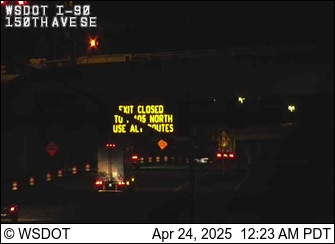 150th Ave SE & I-90
Check the latest traffic conditions
Drivers are avoiding westbound I-90 between Bellevue Way and the East Channel Bridge to Mercer Island. Like the morning commute through the area, the afternoon commute went smoother than expected.
The Washington State Department of Transportation said the backup on I-90 Monday afternoon started right after the I-405 exit and was only about a mile long.
Chokepoints: What you need to know about the I-90 closures
Now the worry is drivers will take a chance Tuesday and ignore the warnings.
The WSDOT tweeted Monday afternoon: "Thinking about taking WB I-90 tomorrow? So are 20K others! Stay your course, it's working!"
At the tail end of the commute, KIRO Radio traffic reporter Kimi Kline said, "If drivers do what they did Monday morning and afternoon, we'll be in good shape Tuesday morning. The afternoon commute with the president in town could get crazy."
Details are still a little sketchy, but President Obama is expected to land at Boeing Field after noon on Tuesday and then travel to Madrona and the Eastside. It's not clear which route he'll take during the I-90 closure, but his last Eastside visit included a helicopter.
The president is not expected to spend the night in the Seattle area, which means he'll be traveling back to Boeing Field sometime during the evening commute to head to San Francisco for more fundraising events.
WSDOT originally estimated westbound backups on I-90 that stretch 7 to 10 miles. The longest backup reported during the Monday morning commute was three miles. The afternoon backup measured about one mile long.
KIRO Radio races reporters
In an effort to determine which route from Bellevue to Seattle would be the fastest, KIRO Radio raced three reporters Monday morning.
From a parking lot in Bellevue at 6:30 a.m., KIRO Radio's Chris Sullivan headed west on I-90, Tim Haeck took the westbound route on 520, and Jillian Raftery took I-90 by bike.
Haeck's commute time proved to be the quickest, arriving in the KIRO Radio's newsroom on Eastlake in Seattle at 6:50 a.m. Sullivan came in second place, arriving at 7:14 a.m. Raftery, on her bike, arrived at 7:48 a.m.
Read more:
Expectant parents, emergency responders brace for I-90 construction backups
President Obama plans Seattle-area visit in middle of I-90 'carmageddon'
WSDOT Secretary responds to Dori Monson's I-90-closure conspiracy theory
Alyssa Kleven
, MyNorthwest.com Editor
Alyssa Kleven is an editor and content producer at MyNorthwest.com. She enjoys doting over her adorable dachshund Winnie - named for Arcade Fire front-man Win Butler.
Top Stories

New Look
The Seattle Police Department unveils new uniforms, logo

'It Was My Turn'
K.J. Wright has signed a $27 million, four-year extension with the Seahawks

Holiday Map
Find holiday events, Santa photo opportunities, and light displays
ATTENTION COMMENTERS: We've changed our comments, but want to keep you in the conversation.
Please login below with your Facebook, Twitter, Google+ or Disqus account. Existing MyNorthwest account holders will need to create a new Disqus account or use one of the social logins provided below. Thank you.
comments powered by Disqus
In the community