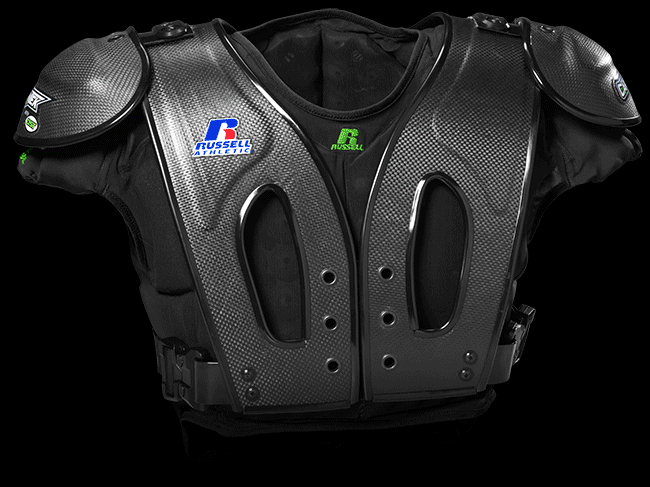 Boeing has teamed up with Russell Athletics to build a better shoulder pads using their aerospace technology. (Image courtesy Russell Athletics)
Boeing brings its aerospace innovation to players on the football field
on August 28, 2014 @ 5:39 am
(Updated: 7:35 am - 8/28/14 )
This year you'll see Boeing innovation on the football field and you probably won't even notice it. Boeing teamed up with Russell Athletics to build better shoulder pads.
Russell's vice president for design, merchandising and development Sarah Gholston said the company was working with automotive manufacturers to build a new foam vest for its shoulder pads when they suggested looking to Boeing for the shell of the pad.
"We put all this innovation into the foam and into the compression vest, and we thought we can't just put plastic on top of it," she joked. "We need to go out there and find yet another material that can really help with the dispersion of the impact."
The carbon fiber that Boeing uses to build its 787 was a perfect fit. Carbon fiber is strong, durable and light-weight. It's perfect for shoulder pads.
Julie Felgar is Boeing's managing director for Environment Strategy and Integration. She said the company has many environmental goals, including looking for ways to reuse its excess materials and scraps.
"One of them is zero solid waste to landfill, and so when we have excess production materials we look to how we can reuse those going forward," Felgar said.
Boeing now sells its scrap carbon fiber to Russell Athletics, and Gholston said it's allowed her company to change the game for players.
"What we've done is we've actually molded the re-purposed carbon fiber into an exoskeleton shape so it permanently gives you that arch and support," she said.
Russell said the shoulder pad is durable, better ventilated and 10 percent lighter than its competition.
The new shoulder pad is being used in the NFL and NCAA this season. It's also available for lower divisions.
The price tag is $500.
Chris Sullivan
, KIRO Radio Reporter
Chris loves the rush of covering breaking news and works hard to try to make sense of it all while telling stories about real people in extraordinary circumstances.
Top Stories

Eying the Prize
A dominant win over Arizona has the Seahawks eying the Super Bowl

History of Violence
The gunman who fatally ambushed two NYC police officers had a long criminal record
ATTENTION COMMENTERS: We've changed our comments, but want to keep you in the conversation.
Please login below with your Facebook, Twitter, Google+ or Disqus account. Existing MyNorthwest account holders will need to create a new Disqus account or use one of the social logins provided below. Thank you.
comments powered by Disqus
In the community