Women allegedly steal $5,000 from Puyallup market
Jan 12, 2023, 2:56 PM
|
Updated:
2:57 pm
(Pierce County Sheriff's blog)
Authorities are asking the public for help in finding a group of women who allegedly stole $5,000 from a Puyallup market.
Police report several women, some holding children, walked into the Las Monarcas Market on River Road East and distracted the staff.
"One of the women was walking around as if she were shopping and engaged some of the employees of the store," Sgt. Darren Moss of the Pierce County Sheriff's office told KIRO Newsradio's Sam Campbell. "Another woman then entered the back room of the business where there was a money exchange counter and took some cash that was stored back there and also went into the cash register."
If you recognize either of the two pictured suspects, please submit an anonymous tip to Crime Stoppers at www.tpcrimestoppers.com or call 1-800-222-TIPS.
Five arrested in connection with auto theft ring
Seattle police have arrested five people in a city-wide auto theft operation.
The operation began last Saturday with officers completing surveillance and routine checks of vehicles.
Of the five suspects arrested, one was arrested for possession of a stolen vehicle, two for felony warrants – including possession of a stolen vehicle and burglary – and one for unlawful possession of a firearm, according to the police report. The fifth suspect was arrested for possession of a stolen vehicle.
The vehicles had no license plates, modified trip permits or were returned as stolen vehicles when a records check was completed.
A few of the suspects had outstanding warrants.
Four stolen vehicles, two handguns, and narcotics were recovered.
Driver of runaway truck ends up in the water
A tractor-trailer hauling a 50,000 lb. load lost its breaks headed down E. Main in Manchester on Wednesday.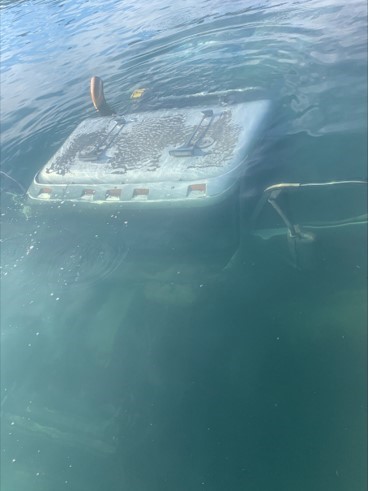 According to the Kitsap County Sheriff's office, the driver of the out-of-control truck decided to ditch his vehicle in the water.
He aimed for the boat ramp, where he ended up underwater. The driver was able to swim to safety.
King County Sheriff's Office warn of scam
The King County Sheriff's Office has tweeted out a warning of a digital scam.
People have said they've received calls, texts, or emails claiming they owe money for an outstanding warrant, missing jury duty, or other violations.
Scammers often ask for money in the form of a gift card.
Sam Campbell contributed to this report